The current webcomic on xkcd.com titled "Is It Worth The Time" has a fantastic table listing how long you can work on making a routine task more efficient before you're spending more time than you will save, based on a 5-year payback plan.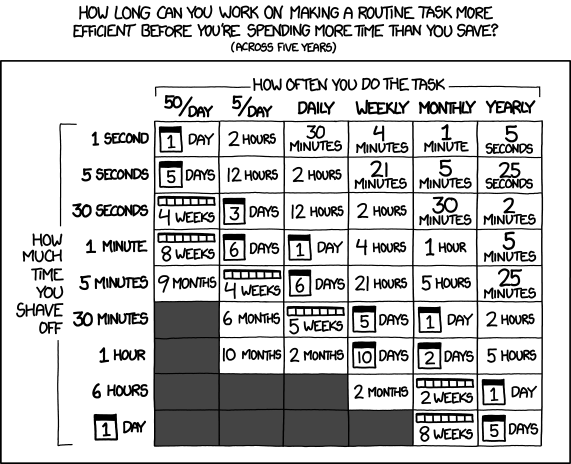 As a company spending most of our time and effort focusing on the general problem of accelerated software development and delivery, this is obviously great data and icing on the cake that can be used to justify the value of our solutions and offerings.
How much time and effort are you spending today optimizing and accelerating your software builds, tests and release processes?
David Rosen is a Solutions Engineer turned Product Manager turned Ecosystem Solutions Manager at Electric Cloud, currently focused on technical and strategic ISV partnerships in the Developer Productivity Tools, Continuous Delivery and DevOps space. With 12+ years of experience from the Enterprise Developer Tools space, David brings a wealth of hands-on technical experience and knowledge how software is developed and delivered at scale, across various industries, technical domains and geographical regions. David has held managing and engineering positions at UIQ Technology, Nokia and Telelogic. David holds a MS degree in Information Technology from Uppsala University, Sweden.
Latest posts by David Rosen (see all)